Real-Time Data … Fast, Accurate Decisions
Weather is powerful, bringing entire fleets – and even cities – to a screeching halt. We can't change the weather, but we can work with it. Understanding the weather in real time allows you to navigate around it, get out of the way and, most important, keep drivers safe.
Accomplishing this, however, takes more than traditional satellites. You need hyper-localized technology that brings you data from the street level, where most weather technology isn't reporting. We call this data "Ground Truth."
Time is critical when treacherous weather occurs. Every minute is precious. WeatherCloud technology transports you to the ground level, where the weather is actually happening. Microclimates cause temperatures and road conditions to vary within a close distance, but with real-time and accurate data, you get dependable and precise information quickly delivered to your dashboard or alerts sent directly to your phone. As a result, a dispatcher could reroute the fleet and keep them out of harm's way, or a maintenance provider could understand precisely where and when to send the snowplows.
Delivery of Ground Truth® is powered by sensors attached to vehicles and existing road infrastructure, measuring critical pieces of data. For example, what is the current rate of precipitation? Is the temperature dropping quickly? Or are there unusual amounts of water building up on the road? Sensor technology delivers the answers – and it does so fast.
Data is collected, shared and combined with metrological models. As a result, precise descriptions of weather and road conditions are generated at the exact location of relevance. No longer is it necessary to guess what is happening at street level. Instead, know it with complete confidence.
Plus, with an easy-to-view dashboard available from any device, including desktop, tablet or mobile, you can set alerts that are pushed out to the drivers or personnel.
Here is a breakdown of WeatherCloud's specific technologies and how they help deliver more precise, accurate, and real-time data:
Ground Truth Skypack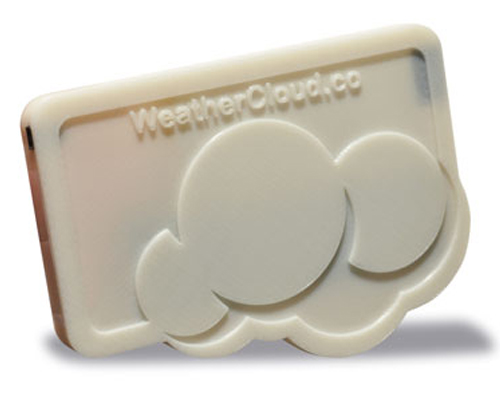 The Skypack is affixed to the inside of the windshield. Harvesting energy from the sun and storing it in a small energy cell battery, this sensor measures precipitation rate and type, and ambient lighting conditions.
The Skypack contains a precipitation sensor, an ambient light sensor, microcontroller, BLE modem, LiPo battery, and solar cell.
Ground Truth Roadpack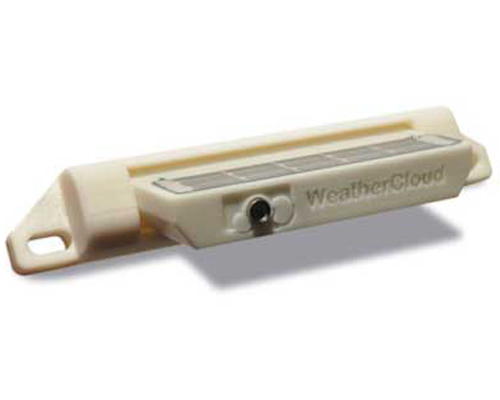 The Roadpack is attached to the license plate frame. It is powered by a small solar cell. The Roadpack measures dew point, ambient temperature, pavement temperature and road conditions such as wet, icy or snow-packed and is programmed to determine crosswinds.
The Roadpack contains an IMU, infrared thermometer, microphone, BLE modem, LiPo battery, and solar cell.
Ground Truth WeatherMesh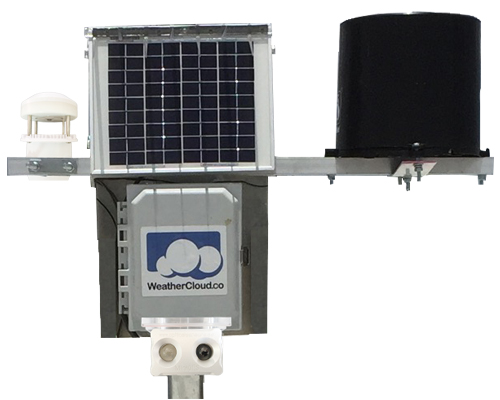 WeatherCloud's high-density WeatherMesh provide 10 to 1 coverage as compared to traditional RWIS. They are radio-meshed and can be installed on existing infrastructure, such as light poles. WeatherMesh stations are modular, meaning you decide which attributes are important to track.
WeatherMesh stations collect all Roadpack and Skypack data elements, as well as wind speed and direction, rain fall and visibility. Camera is optional.
Ground Truth Smart Hub

The Smart Hub aggregates the data collected by the three sensors and adds vehicle dynamics data collected by the Smart Hub unit itself. It then crunches the data and pushes it to the cloud where it is combined with meteorological weather models. We call the resulting enhanced data "Ground Truth".
Ground Truth EWAS

Data is ported into Environmental & Weather Analytics Systems (EWAS) to track vehicles and road weather in real-time. Dashboards can be configured with the visualizations that best fit your needs. Dashboards can be customized for each user or role within an organization. All dashboards are available via PC, tablet, or smartphone
Ground Truth Alerts & Notifications

Dashboards allow for data-triggered SMS and email alerts to better manage driver warnings and maintenance operations. Alerts can be set up based on any combination of incoming data elements, including road temperature and geo-fence. Notifications and alerts are displayed by priority.
WeatherCloud utilizes vehicles as weather sensors and combines that data with high-density stationary weather stations to produce the largest, most accurate surface weather model on the planet.
Here's how it works:
Vehicle-mounted sensors measure ambient temperature, wind direction and velocity, precipitation rate and type, pavement temperature and conditions (wet, icy, snow packed), relative humidity, and visibility. These sensors feed the data to an on-board Smart Hub.
High-density WeatherMesh RWIS stations feed in more data, including wind speed, wind direction, rain fall, fog and air quality. Stations are meshed via a radio network and communicate via cellular, Wi-Fi or satellite.
The Smart Hub streams the data to the cloud where it is combined with meteorological models to create precise, granular descriptions of weather and road conditions at the earth's surface. At WeatherCloud, we call this Ground Truth.
Ground Truth data is accessed through the WeatherCloud dashboards (desktop, tablet, and mobile) for processing and analysis–and is pushed back to drivers and maintenance personnel as alerts and visualizations.